Get to know the staff at Casi el Cielo.

My name is Barbara Kocak and I moved to Costa Rica from Charleston, South Carolina about ten years ago after a first career in education and a second in the business world. This is the best yet! I loved building Casi el Cielo from the ground up, creating a home where you, your family and friends can have fun, be comfortable, be pampered and be surrounded by unique, interesting touches. Above that I have enjoyed meeting intriguing people from all over the world and sharing with them my love for the indescribable magnificence "where the mountains meet the sea" and my appreciation for the warm embracing welcome of the Costa Rican citizens that live here. Come on down to the Southern Zone of Costa Rica for some good old Southern hospitality. We will be waiting for you.

We are so fortunate to have lovely young Costa Rican women on our team who will delight you every minute of the day as they keep everything in impeccable order, create colorful, elegant, unique table settings and serve you making each meal a special occasion. Go away for a day's adventure and come back to find your room immaculate and your laundry folded neatly on your bed. It doesn't get much better than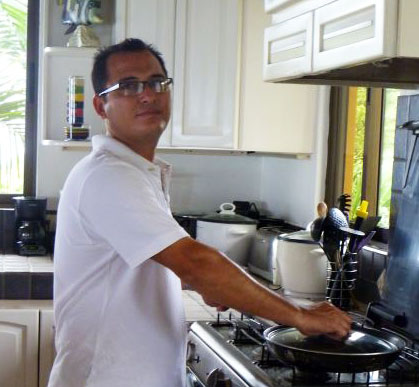 that! Well, until dinner that is.This is Wil, our amazing chef. His nickname is Aguja which means needle in Spanish. But if anyone is thinking, "Never trust a skinny cook", it is a very old nickname. (Ja, ja as they say in Spanish.) You can certainly trust that Wil will amaze you every time he sends something from the kitchen. He will introduce you to Costa Rican delights and also take you around the world with his cuisine. Aguja has been here since Casi el Cielo opened and improves every day. There are former guests all over the world trying to make Gallo Pinto, a Costa Rican breakfast staple, that tastes as good as his. Why not give it a try?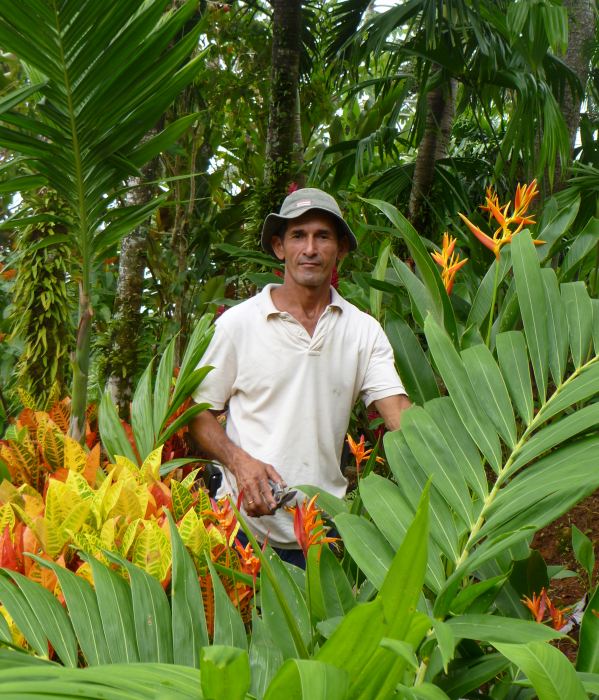 All around you as you enter the driveway at Casi el Cielo, you will be amazed by the work of Benigno, our gardener.
Each day he will clean the pool keeping the water crystal clear and work quietly among the plants that he loves so much. He will be delighted to talk with you about the names of the plants and the care required. He speaks some English; you speak some Spanish. Go for it! At Casi el Cielo, you will be immersed in a garden created for its beauty and also to attract birds, butterflies, sloths, monkeys and other creatures.

The team at Casi el Cielo just keeps getting better since we opened for business ten years ago. During this time there have been many changes in our lives. Benigno has married and had two daughters Jenifer and Ananda. Wil has had a daughter Walkiria and I have become a grandmother to two of the cutest elementary school girls in the world: Scout and Shiloh. Many things have changed but one thing has remained constant. Everyone here is singularly devoted to making your stay in Costa Rica the most that it can possibly be. Costa Ricans are fond of saying "para servirle" which means "here to serve you" and that is our motto at Casi el Cielo.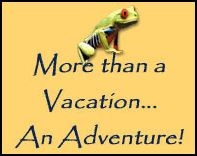 Email: casielcielo@hotmail.com
Telephone (Costa Rica): 011-506-8813-5614
San Martin de Escaleras Dominical, Costa Rica
Website: www.casielcielo.com
The content of this website is for private and personal use only. Any commercial use of the content on this website webmaster.
All content on this site is copyright protected – 2012. All rights reserved by Casi el Cielo Vacation Villa Rental in Dominical, Costa Rica.